A matter of choice...
por Rubia A. Dantés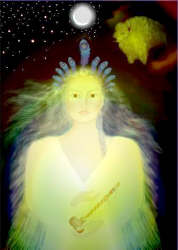 Publicado dia 07/09/2004 19:21:01 em STUM WORLD
Compartilhe


Translated by Nathalia Fernandes


[email protected]



(Why not trying?)

I found myself facing a new job... A new way of expressing myself in the Gift... And now I already had the place for this job... Which was given by the Universe in such a fast way that I had no doubt that was the way... And He would be supporting me...

I confess that I accepted the gift, enchanted with the accuracy it came... And I ordered a paintwork in the room... I put a beautiful curtain, and a Tibetan tissue with colored ribbons with the symbols of Good Luck over it... Which I gained from a Lama... And everything started to flow so easily as I was discovering that I already had almost everything I would need to decorate the room... And the few things I needed to buy too, it seemed that they were waiting for me...

I watched things happening in such a perfect way and it was impossible not to notice the hand of the Universe in action... Even that deep inside could exist some guilt for breaking a pattern... That things must come with a lot of fighting and effort to have some value; the feeling of well-being that was with me was so good that made me put aside every doubt... This was a new path I chose and I was getting results for this choice...

I put the paintings of the Sacred Women... Some crystals... I made an altar for the Abundance gnome... And when everything was ready I felt it was missing a piece for the middle of the room, where I wanted to put a very special crystal I have, but as I was going to the farm, I decided to put it later...

In the farm... I was sunbathing and thinking about how I felt happy and with a renewed energy while I was fixing things up in the room... When my mother calls me and says that Tião – the caretaker – had a present for me... A root...

I immediately went looking for Tião... But when I arrive at his home I notice that he is not there... I walk around the house to see a little pomegranate tree I planted some time ago... At that moment, a big blue bird – a hummingbird - gets very close to me and performs some kind of dance and then picks something in the ground... Between scare and enchantment I observe again the bird doing the same movement... And it gets so close that I feel something special in that movement of dancing in front of me and picking something in the ground... And I am still somehow enchanted when Tião arrives with the root...

I was already enchanted... And got much more when I noticed that the root I had just won was a bit fossilized and perfectly shaped as a buffalo head, with a the calumet of peace getting out of the horn... And I saw that there was a perfect place for my crystal.

Well... It would be much more perfect than I could ever imagine finding...
As this work is related to the Sacred Femininity... And through the knowledge from the North American Indians, the White Buffalo Woman was the one to bring the calumet of peace... And brings this energy from the Sacred Femininity...

I thanked once more to Tião and to the Universe... And when I arrived home I went putting the crystal in its place, thinking that I should work on the wood so that it could fit... I got shocked when I noticed that it fitted so perfectly, as if nature had prepared the exact place for it...

The hummingbird follows me for some time, always bringing me beautiful messages...
What attracts me to the bird, among other things, is the happiness it always brings, and, even in its apparent delicacy, it is very strong, because it is the only animal that stops in the air and flies in every direction with so much slightness and smoothness that it seems it makes no effort for that... That comes from its nature, so doing it requires no pain...

To me, it symbolizes strength with happiness and smoothness... It is the perfect symbol for these new energies that are indicating new possibilities...
I do not deny the rightness of the paths I have came across until now and I deeply thank for all I learned... Many paths emphasized pain...

But today... From the depths of my heart... It seems incoherent to suffer to be happy... I guess this is an acquired right of my Soul... That I accepted to bring to my reality...

I want to make clear that this "no effort" stuff does not mean to wait for everything come to our hands without doing anything... It really means to believe and accept that our everyday job can flow easily, by the most natural way... Where there is no resistance, that we find when our steps are guided by ego or other voices that many times aren't ours... And that when things flow easily... Without effort... We can do much more in every way... We can smile more... Hug more people... Spread more happiness... More love and positive energy...

We can use a time that was used before to suffer... To be happy...

Everything is a matter of choice.
Leia Também
Sobre o autor
Rubia A. Dantés
é Designer, cria mandalas e ilustrações em conexão...
Trabalhos individuais e em grupo, com o Sagrado Feminino, o Dom e o Perdão...
Email:
[email protected]
Visite o Site do Autor