Between pain and nothing, what will you choose?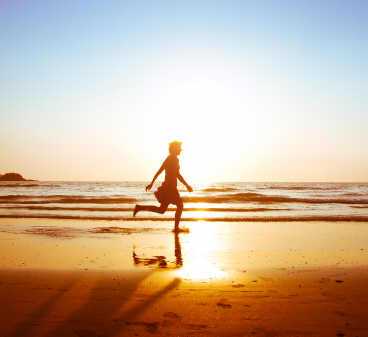 Translated by Manuela Palmeirim -

[email protected]



After the massive number of letters that I have received (both from men and women) saying it would not be worth devoting themselves to others, to believe in love once more, I got inspired to write this "text-answer".

I don't want to support unsuccessful relationships that only will hurt, and I'm not suggesting people should insist on 'one way' feelings, on unanswered relationships, but I would like to reassure my belief on how valuable is the courage to begin again, even if we are referring to the same relationship; the courage to keep believing, mostly because pain is part of love, of life, or any process of growth and evolution.

According to the complaints I have heard, the attitudes I have seen, the number of depressive people that I find walking drained around the world, it seems we more often choose the "nothing" rather than the "pain".

When you ask yourself "What's worth loving, trying, giving myself up, offering the best I have, if next will come the pain of separation, abandon, ingratitude? Think about: do you prefer the cold and empty safety of a plain relationship? Do you prefer a life without intensity, walking around without any discovery, the days passing by with no love desire? Do you prefer a 'zero' just to avoid the pain?

I don't mean pain is easy, but for God's sake, I prefer the pain of learning what life itself represents. I prefer the inevitable pain to which trying leads us to. I prefer to feel, always and intensely, the pain of love…

Do I prefer the darkness of night rather than never have been stunned by the Moon brightness…
Do I prefer the cold rain, rather than never have felt the smell of moisten earth…
Do I prefer grey winter shelters rather than the delight of autumn magic sheltering, charmed by the colourful joy of spring and seduced by the tempting summer warmth…

For that reason do I prefer the sadness of departure than the absence of a warm hug…
Do I prefer the bitter flavour of a "no", rather than the courage of trying…
Do I prefer the deafening echo of longing, than never have tasted the force of a strong and passionate kiss… that put in place all our hormones again!

Do I prefer the anguish of a mistake than not having dared…
Do I prefer the deception of ingratitude than not having opened my heart…
Do I prefer the fear of bearing in mind my love may not be returned than not having madly loved.

Do I prefer the desolate certitude of death than not having dared living with all my soul, with all my heart, with everything possible...
Actually I prefer pain, thousand times the pain, than nothing…
There isn't – actually – anything more terrible and truly painful than to deny all possibilities prior the term "nothing".

And since pain is the price we must pay for the spectacular chance of existing, I wish you dare, you stop defending yourself all time and love, giving yourself your best, doing everything you possibly can and, feeling you reached your limits, you may take a deep breath and start over again…

Because you may give up of a way that doesn't show good, but you cannot stop walking…
You may give up of a wrong way of being, but you cannot stop being yourself…
You may give up of an ruined relationship, but you cannot close your heart…
Therefore, welcome the primitive silence that leave scars on my chest after all sorrow and misunderstandings… But may I never, never stop believing that in a short while, after recovering and yet more willing to succeed, I shall live again, I will feel pain again and, above all, I will love once more… and not only a single person, but everything precious to be loved!





Avaliação: 5
|
Votos: 1
Rosana Braga
é Especialista em Relacionamento e Autoestima, Autora de 9 livros sobre o tema. Psicóloga e Coach. Busca através de seus artigos, ajudar pessoas a se sentirem verdadeiramente mais seguras e atraentes, além de mostrar que é possível viver relacionamentos maduros, saudáveis e prazerosos.
Acesse rosanabraga.com.br para mais conteúdos exclusivos!
Visite o Site do AutorSaiba mais sobre você!
Descubra sobre STUM WORLD
clicando aqui
.