Establishing objectives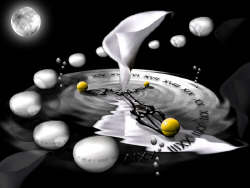 Translated by Françoise KILLICK


[email protected]



Nothing in life can be realized unless we initially determine our objectives. No matter the values we have been taught in our childhood by our parents or that were imposed to us by society in our adult life.

In order to realize our own objectives, we need serious commitment, even though they can seem strange or exotic to the rest of the world. In this respect, we do need to be inflexible and impose ourselves, no matter the others' opinions. Only with this condition can we be successful in life. Our objectives are personal and individual and reflect the aspirations of our own self.

Whoever has found happiness will surely have had a clear consciousness of his life objectives, so necessary to proceed one's way despite the difficulties, and acquire a deep feeling of one's personal realization, at the origin of one's internal balance.

The important thing to reach this objective is to reconcile with ourselves, to be sure we have made the right choice, whatever the opinion of our parents or friends. The feeling that you yourself and only you have made the choice of your life path will give you the strength to face adversity.

Unfortunately, the majority of people goes through life without thinking seriously about the question. Rarely do parents counsel their children to assume the responsibility for their own lives. They either let their children do what they please – and live their lives without objectives -, or bully them into a path that will lead them to become money and social status seekers.

Ignoring the true objectives of life only brings trouble. As any other activity in life, it demands creativity, planning and organization.
It is a twofold activity. First, it is necessary to explore all possible but limitless dreams.
Some psychology specialists think it necessary to write down the date and the objectives for the week, the month, the year or the next five years. According to them, it is important to make a note of all the thoughts. It would be helpful to try to imagine all that would be done if we only had six months to live.

The next step is to make a selection, according to the priority or importance of the objectives which will be rated A or B, whether letter C will be granted to those objectives that could be abandoned without our feeling frustrated or unhappy.

All specialists in time management agree that spotting more than ten life objectives is the same as having none, as it will lead to dispersion.

It is not easy to make a choice, but people who are successful in life very seldom have more than two or three initial aims, on which they focus all their energy.

Although the pre-determination of the objectives is essential, it will be useless if there are no actions. We have to be rigorous and straight forward in our defining our goals, and we also must do it on a regular basis, yearly at least, and preferably once a month.
We must keep in mind we are constantly evolving and if we face a change we had not initially foreseen, however carefully we had established our plans, we will have to review them.

It is of the utmost importance that we listen to what our heart says. He will tell us, at all times, what we need and what we can do to turn our dreams into reality.






Avaliação: 5
|
Votos: 1