The ego´s voice... The soul´s voice...
por Rubia A. Dantés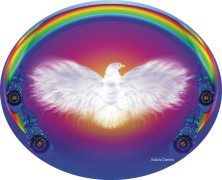 Publicado dia 23/08/2004 23:59:16 em STUM WORLD
Compartilhe


Translation by Patricia Oliveira -

[email protected]



All of us are in search for happiness... and sometimes while searching, we walk ways that not always take us to it... many times, they actually push us even more far apart from where it can be found...
We learn to wish for things we don't really want, in total incoherence with our nature...
Since childhood, we're lead to believe that we will find happiness outside ourselves and along the way, many possible "formulas" are given us showing the many ways we can reach the so called happiness... That way, we end up believing that if not in accordance with that concept there is not a single chance for happiness... and so we keep going with our lives, conquering things... jobs... status... stress... everything but happiness!!!
When we finally find out that it wasn't what we were looking for, we are left with a terrible feeling of emptiness... a feeling of having won the race but not being able to take home the prize.
But... the ego's voice has many ways of catching our attention again...
Every time, with an even more attractive and convincing way, we start searching once again... a search that has no real connections with our most inner needs...
And we can get lost with so many invitations from our ego trying to reach the final destination where it takes us... a place that is not close to happiness at all.
Or we can choose to listen to another voice...
A voice that talks to us in a softer way inviting us to find our own path... with no perfect "formula" and a place where each of us can write our own history... It's the Voice from our Souls...
To be able to accept that invitation you'll need a lot of courage, faith and "let go"!
I say Courage, because there will be times when you'll need to create your own path... walking where nobody else has... diving deep within, searching for the clues that will take you to your next step...
You will need to "let go" of old concepts and rules and especially of your ego...
It will be necessary to forget some of the things you learned and make space for the new things that will really have meaning in your personal history.
And you will need Faith to be able to trust the paths that your soul will tell you to follow, knowing that it is a place where the limits from your rational mind do not exist and what has seemed to be impossible can very well become possible!..
When we open ourselves to follow the voices from our souls we slowly find out that happiness is no where else but in each step we take towards our Divine Purpose.
Happiness gets closer to us as soon as we start getting closer to our inner selves!!!
And there will come the time when we will no longer be able to ignore the call that comes from our souls, because that voice will become so present and so natural that we will realize that it is the only voice that can lead us to our "way home"...
Listen to that voice and follow it... that way, you'll see that beyond what you know there are many possibilities... even to Be Happy!!!
Leia Também
Sobre o autor
Rubia A. Dantés
é Designer, cria mandalas e ilustrações em conexão...
Trabalhos individuais e em grupo, com o Sagrado Feminino, o Dom e o Perdão...
Email:
[email protected]
Visite o Site do Autor