Accept yourself as you are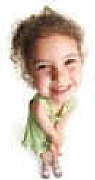 Translated by Cristina Campos


[email protected]



Self-acceptance may, at first, seem to be something contrary to the intention of internally transform ourselves. However, it is an essential attitude in the development process of our self-confidence.
How can we develop love and esteem for ourselves if we are not able to accept ourselves exactly as we are? This means that we should neither become egocentric, deny our imperfections nor forsake the will of defeating our fears and limitations.

But changing is a process that is developed all along, and the motivation to undertake it only comes up if we recognize ourselves as valuable and special beings, to whom the Creator has dedicated His love and attention, regardless our flaws.
As we analyze the natal astrologic map of a human being, we can clearly realize difficulties, tests and challenges he brought to the present incarnation, but his strong points, qualities and talents are also evident there.

Understanding that our totality comprises this wonderful complexity, where qualities and limitations are mixed, is an essential step for our self-esteem development.
But for that, prior to anything, it is necessary to release ourselves from the anxiety of wanting to be someone else. This anxiety is the stress state that arises between what you are and what you want to be. Seek self-improvement without – however - forgetting that you already have many qualities and talents that are only waiting to be recognized by you.
A person who doesn't love himself, accepts humiliation, disrespect, exploitation and all kinds of violence the world may wish to impose upon him. Love oneself, accept oneself and wish, everyday, to get the best out of life, not needing to give up one's own truth, is the safest way to reach balance and serenity.

"Since the beginning of your life you have been told how you should be. Nobody ever said you are fine the way you are; they have always put programs into your mind. Accept yourself - this is the prayer. Accept yourself - this is the gratitude. Relax internally - this is the way God wanted you to be. He didn't want you to be different, otherwise he would have made you differently. He has made you like you and like no one else. Life is not mean; life is always abundant - but we can not receive this abundance because we don't feel we deserve to receive it. Love begins with love to oneself. Don't be selfish, but satisfied with yourself - and these are two different things. Don't be a Narcissus, don't be obsessed by yourself - but love for oneself is a duty, a basic phenomena. Only when you take this for granted you can love someone".
(Osho).





Avaliação: 5
|
Votos: 1